CHRISTMAS REUNION
Snowed in and falling in love?
Once upon a time in the remote mountain town of Angels Glen, the town fathers, intent on reviving business, created their own version of the worldwide custom of couples locking their love.
City girl and dedicated Christmas-aholic, Rebecca MacDonald returns to Angels Glen to operate her family's inn over the Christmas holidays. She needs to do something right after a costly mistake and plans to create the perfect holiday for visiting VIP guests. The last person she wants to meet is Alec Stewart, her gorgeous, childhood nemesis.
Alec, retired dot-com millionaire and dedicated Scrooge, loves his quiet life as a fishing guide in his small hometown. He's always had a crush on Becca, his best friend's baby sister, so when he's asked to keep her safe while she's in town, he knows he's heading for trouble.
While working together to find the perfect Christmas tree, decorating the inn, and building a gingerbread house Alec and Becca grow closer. But can they admit the real magic of the season is love…and lock their own in time for the town's carol sing Christmas Eve?
Christmas Reunion is the first in a multi-author clean and wholesome, heartwarming Christmas trilogy. Read the stories of all three couples.
Christmas Reunion by Sue Ward Drake
If You Believe in Love by Luanna Stewart
Holiday Hitchhiker by Delsora Lowe
---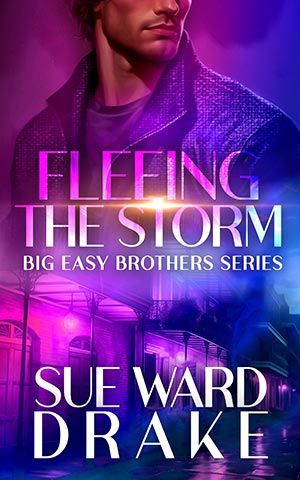 Available Now!
FLEEING THE STORM
No matter what else he is, Jack Guidry, former New Orleans undercover cop turned bounty hunter, is a stubborn cuss who never gives up. He works all the angles necessary to nab his fugitive, even if that means getting up close and personal with the lovely, but wary French Quarter pastry chef, Grace Comstock.
Grace isn't talking, certainly not to the handsome rogue who suspiciously pops up everywhere she goes. All she wants is to keep her orphaned niece safe, so when a masked kidnapper ambushes them, she flees New Orleans—straight into the path of a dangerous hurricane.
Though she agrees to talk to Jack, she hadn't planned to ride out the storm with him. But that's what happens once he saves her and the baby from drowning. Even though he denies his attraction, Jack can't help feeling protective of this beautiful, frightened woman. When they wind up fighting for their lives, can Grace trust Jack enough to help him bring his fugitive to justice?
Fleeing the Storm, set in New Orleans, is a standalone emotional romantic suspense with steamy scenes as Jack and Grace learn to trust each other on their way to their Happily Ever After!
---
PRAISE FOR FLEEING THE STORM
***** "These 4 brothers and their stories may be my newest faves for book boyfriends. I can't wait to read this entire series."
—Kay BRC, Authors on the Air Book Review Crew
---
A BIG EASY CHRISTMAS: A HOLIDAY DUET
A BIG EASY CHRISTMAS is perfect for fans of feel-good Christmas movies like Sleepless in Seattle or The Holiday
A Big Easy Brothers Family and Friends Holiday Duet
THE GIFTS OF CHRISTMAS
Christmas is only days away and Cath Guidry, French Quarter ghost tour guide, wants to find a special gift for her husband, Mitch, for their first Christmas together. When his elderly aunt suggests refurbishing his abandoned, but beloved, broken watch, she's on board.
Mitch also needs a special gift to Cath. When her good luck charm chain breaks in a tussle with a purse snatcher, he has a designer create a new necklace. But when Mitch vows to stick to her side through Christmas, how can they keep their special gifts a secret?
NEW YEAR, NEW LOVE
When her ex-boyfriend proves impossible to shake, French Quarter cocktail waitress, Rhonda Owens, calls on the handsome New Orleans police detective she met at the Guidry Christmas dinner. Widower Tony LeNoux never expects to find love again, but Rhonda sparkles like a diamond and makes him believe again in a happy ever after.
Will they be able to put their pasts behind them in time to celebrate New Year's Eve?
---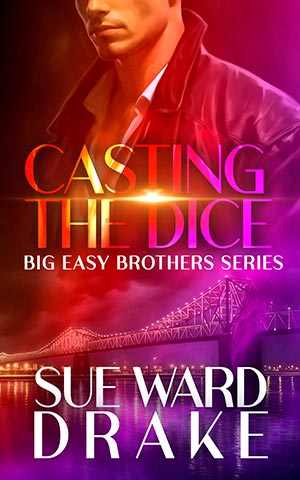 Available Now!
CASTING THE DICE
This should be easy…
Former Navy deep-sea diver turned bounty hunter, Hal Guidry, needs to collar a fugitive now. Not yesterday. Right now.
But inside the New Orleans mansion, he instead finds a woman who fires his blood. A woman who knows only her name. A woman definitely in danger.
As her memory returns, girl-next-door librarian, Annie Swanson, questions how she knows the oh-so-handsome hunk calling himself a friend. Then she discovers he's a bounty hunter like the men who killed her father, and she flees…
…only to be nearly kidnapped…in broad daylight…in the French Quarter.
Annie runs to Hal with questions, but when they're both nearly killed in a fiery explosion, he needs answers of his own.
As the sexual attraction between them heats up, can Annie cast the dice in his favor? Or will they become victims of the deadly forces intent on keeping secrets?
Hal and his brothers have the skills to keep dangerous criminals off the streets and protect the women they love. They don't need easy.
Casting the Dice, set in New Orleans, is a standalone romantic suspense with steamy scenes and heart-wrenching revelations as Hal and Annie learn to overcome prejudices and pride while fighting for their lives and their Happily Ever After!
---
PRAISE FOR CASTING THE DICE
***** "… an engaging, exciting and entertaining novel of love, intrigue and family. [Sue Ward Drake] pulls you into the story on page one, with an edge of your seat thrill ride."—
—Dianamcc, reviewer, Romance Junkies
---
WALKING THE EDGE
Ex-army ranger Mitch Guidry never should have let his brothers talk him into joining them in the Big Easy. Particularly when they have him going head-to-head with the very last thing he needs: a feisty redhead who has more opinions than even his hard-headed brothers. Loyal and overprotective to a fault, Catherine Hurley will do everything she can to stop Mitch from finding her fugitive brother…and yet, he can't get enough of her.
Cath should be furious with the overbearing ex-ranger who shows up on her doorstep looking for her brother. Sure, Mitch Guidry is hotter than a Louisiana summer and pushes every one of her buttons, but he's also an immediate threat to her family, and family is everything to Cath. Unfortunately, the only way to save her brother is to stick to Mitch like glue. But sharing close quarters with him while they search for her missing brother together proves to be more than a little challenging…particularly when it comes to protecting her heart.
Brothers fighting for justice in the dangerous Big Easy
New Orleans, with its sultry, sexy heat and humidity, is a savory gumbo of temptation. For rich food, be it creole or soul or Cajun. For music, be it Dixieland jazz or the hypnotizing drum beat of Congo Square. For sin, be it horseracing, gambling or strip bars. Natives love their city but few take life here as seriously as they should…because trouble never lurks very far away in the moon-drenched crescent called the Big Easy.
---
PRAISE FOR WALKING THE EDGE
"Drake (Hear No Evil) opens her [new] series with this gripping work of romantic suspense…simmering sexual tension grows into a strong, convincing emotional bond in the face of adversity, and the vibrant background of Mardi Gras adds intensity to the action."
—Publisher's Weekly
"The premise is edgy; the romance is tender; the characters are colorful and energetic."
—The Reading Cafe
"I loved the story line and the bounty hunter brother character."
—Goodreads reader
***** Highly recommended. "Wow I loved this book. I loved the sizzle between Cath and Mitch…I didn't want this book to end…"
—Sue W. on BookBub
"Just finished Walking the Edge. I absolutely loved it!!! The story grabbed me on page one, and didn't let go. Looking forward to the next!!!"
—Mary D., reader
---
HEAR NO EVIL
For Molly Light, painting is her path out of a silent, solitary world. Awarded a once-in-a-lifetime trip to paint under the blue Grecian skies, she must accompany the handsome, enigmatic stranger who granted the prize. His every touch arouses her most secret desires, but, when their journey plunges her into a chilling conspiracy, Molly suspects he's not the man he pretends to be.
Bent on revenge for the brutal torture he'd once endured, guilt-ridden loner Stefanos Metadorakis believes Molly is sharing top-secret military plans with the enemy. His instructions are to escort her, watch her every move and mood—not fall in lust with her. But he's inexplicably drawn to this beautiful, damaged woman and before long their passions explode.
As distrust mixes with desire, dangerous enemy forces are closing in, their sights set on Molly. With their lives in the balance, can the lovers trust each other enough to foil a deadly international plot?
Stefanos Metadorakis would make being in love intoxicating…
Stefanos switched off the inside light, casting the car interior into shadow. The hand near her shoulder grazed her chin with the velvety glow of a sunset fading into twilight. He slipped his hand around her neck and leaned closer.
Starbursts rode her spine and every cell poised like a diver on the edge of a board.
His mouth hovered close.
Stop him! Don't complicate things.
But she could no more stop his kiss than she could have tuned a musical instrument.
His mouth found hers with urgency, and heat pooled in her like hot wax under the flame of a candle. She slid a hand over the smooth fabric of his shirt and up over his shoulder. The hardness of his muscles, the way his hand curved around her rib cage—everything—pulled her down into the sea of sensation. How wonderful to be held again….
---
PRAISE FOR HEAR NO EVIL
*****  A must read romantic suspense, emphasis on Romance!!!   – Diana Mcc, Romance Junkies
***** Full of suspense!
"…empathetic character… Molly that I rooted for during her entire ordeal… The scene descriptions for the Greek Isles were terrific and I felt like I was there swimming in the Mediterranean waters. Highly recommend! –Bama Girl, Amazon