WALKING THE EDGE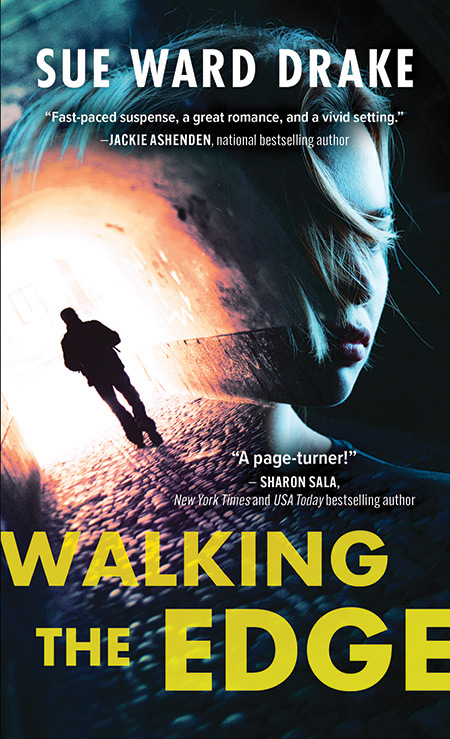 Book 1 in the DANGER IN THE BIG EASY series
Ex-army ranger Mitch Guidry never should have let his brothers talk him into joining them in the Big Easy. Particularly when they have him going head-to-head with the very last thing he needs: a feisty redhead who has more opinions than even his hard-headed brothers. Loyal and overprotective to a fault, Catherine Hurley will do everything she can to stop Mitch from finding her fugitive brother…and yet, he can't get enough of her.
Cath should be furious with the overbearing ex-ranger who shows up on her doorstep looking for her brother. Sure, Mitch Guidry is hotter than a Louisiana summer and pushes every one of her buttons, but he's also an immediate threat to her family, and family is everything to Cath. Unfortunately, the only way to save her brother is to stick to Mitch like glue. But sharing close quarters with him while they search for her missing brother together proves to be more than a little challenging…particularly when it comes to protecting her heart.
Brothers fighting for justice in the dangerous Big Easy
New Orleans, with its sultry, sexy heat and humidity, is a savory gumbo of temptation. For rich food, be it creole or soul or Cajun. For music, be it Dixieland jazz or the hypnotizing drum beat of Congo Square. For sin, be it horseracing, gambling or strip bars. Natives love their city but few take life here as seriously as they should…because trouble never lurks very far away in the moon-drenched crescent called the Big Easy.
BUY THIS BOOK:
AMAZON USB&NAPPLE BOOKSINDIE BOOKSELLERBAMBAM E-BOOKAMAZON UKAMAZON AUAMAZON CA
---
HEAR NO EVIL
For Molly Light, painting is her path out of a silent, solitary world. Awarded a once-in-a-lifetime trip to paint under the blue Grecian skies, she must accompany the handsome, enigmatic stranger who granted the prize. His every touch arouses her most secret desires, but, when their journey plunges her into a chilling conspiracy, Molly suspects he's not the man he pretends to be.
Bent on revenge for the brutal torture he'd once endured, guilt-ridden loner Stefanos Metadorakis believes Molly is sharing top-secret military plans with the enemy. His instructions are to escort her, watch her every move and mood—not fall in lust with her. But he's inexplicably drawn to this beautiful, damaged woman and before long their passions explode.
As distrust mixes with desire, dangerous enemy forces are closing in, their sights set on Molly. With their lives in the balance, can the lovers trust each other enough to foil a deadly international plot?
Stefanos Metadorakis would make being in love intoxicating…
Stefanos switched off the inside light, casting the car interior into shadow. The hand near her shoulder grazed her chin with the velvety glow of a sunset fading into twilight. He slipped his hand around her neck and leaned closer.
Starbursts rode her spine and every cell poised like a diver on the edge of a board.
His mouth hovered close.
Stop him! Don't complicate things.
But she could no more stop his kiss than she could have tuned a musical instrument.
His mouth found hers with urgency, and heat pooled in her like hot wax under the flame of a candle. She slid a hand over the smooth fabric of his shirt and up over his shoulder. The hardness of his muscles, the way his hand curved around her rib cage—everything—pulled her down into the sea of sensation. How wonderful to be held again….